Tanzania Safari Accommodation
Tanzania safari accommodation: We offer different options or a variety of Tanzania Safari accommodation ranging from basic camping to 5-Star luxury.  A safari is chic to boutique lodgings agreeable guesthouses, and family-obliging lodges. During your Safari to Tanzania, you will stay various good Tanzania Safari lodges /campsites, or tented lodge camps depending on safari accommodation requests. The lodging we present to voyagers are the best in Africa, guaranteeing wayfarers have a wonderful and advantageous African experience. In spite of whether you're planning a removing up break, a family occasion, or a nostalgic take off, we have comfort that will suit your necessities and spending plan! Scrutinize through our confirmation and begin organizing your fantasy African experience. Contact us for your custom safari accommodations.
Where to stay during your safari holidays in Tanzania? Get ready to Tanzania safari and see an amazing Tanzania safari accommodation below:
Accommodation in Arusha
Budget Accommodation
Green mountain hotel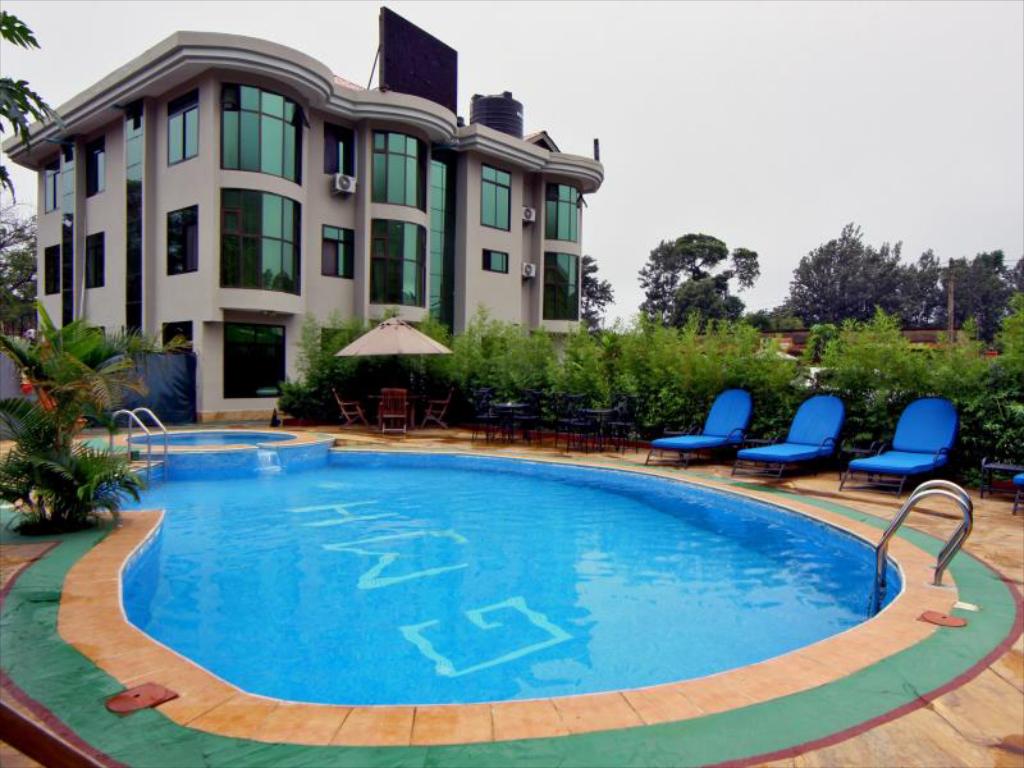 A 3stars hotel offering an outdoor pool and a restaurant, Green Mountain Hotel is located in Arusha. Free WiFi access is available.
Each room here will provide you with a TV, a seating area, and satellite channels. Featuring a shower, a private bathroom also comes with a hairdryer and free toiletries. You can enjoy Mountain View from the room.
At Green Mountain Hotel you will find a 24-hour front desk. The property offers free parking.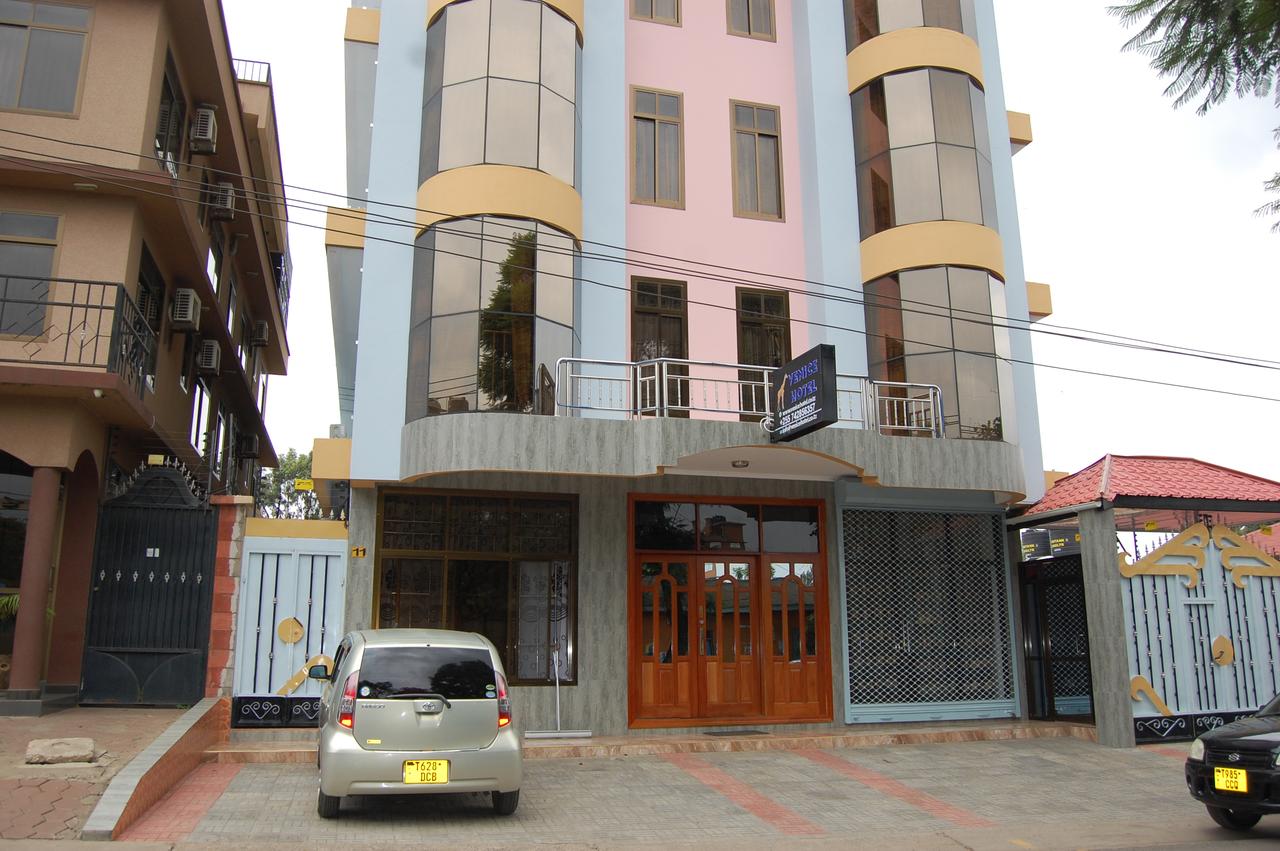 A 2stars beautiful and yet affordable hotel located in Makao Mapya, about 600 m from Arusha main bus stand. The new hotel has a clean environment with friendly staff is suitable for businesses, families, and leisure travelers. Free Wi-Fi is available.
The hotel offers 24 spacious and well-decorated rooms equipped with a mini-fridge, executive office table and chair, satellite TV, cloths board and telephone, drinking water, and juice. Deluxe rooms have a spacious living room with Sofa.
Guests can enjoy a restaurant and a bar that offers a wide choice of African and international cuisine. The bar is perfect for aperitifs or after-dinner drinks. (Hard and soft drinks).
The hotel also has enough parking space on-site with a security guard. Room services, Airport transfer, city shuttle, and laundry services are also available upon requests.
Mid-range + Luxury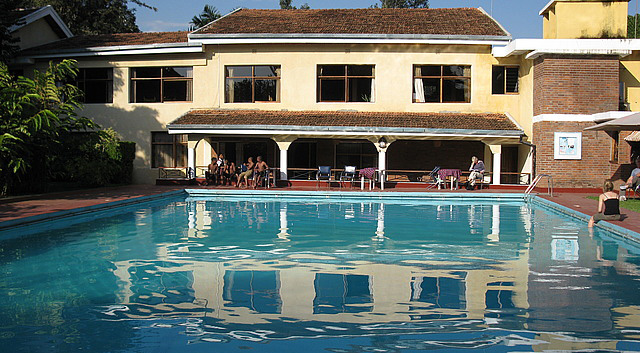 A 3-star hotel Nestled on the lower slopes of majestic Mt. Meru, the legendary Ilboru Safari Lodge has been welcoming mountain climbers and safari travelers to northern Tanzania for decades.
Having forty-eight cottages in which to accommodate our guests: single, double, twin, triple, and family rooms. Four cottages are in the main building, close to the pool and other facilities, each with a balcony overlooking the garden. The rest of the double cottages are situated throughout the lushly landscaped grounds.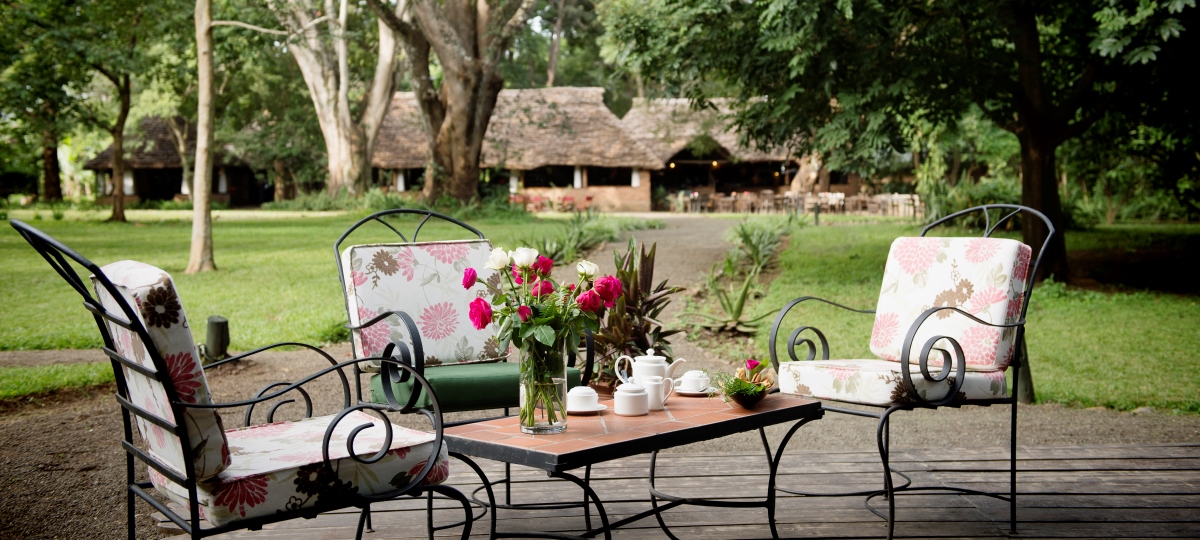 River trees Country Inn offers accommodation in Arusha. The property has a swimming pool and a restaurant. River trees inn accommodating more than 24 guests having 38 rooms, guaranteeing privacy, personal attention, and service. The eight self-contained guest rooms are located in the main farmhouse or within the spacious gardens suitable for you Tanzania safari accommodation. The two 'River Cottages' offer private decks and wood-burning fireplaces. River trees are 29 km from Arusha Airport, while Kilimanjaro International Airport is 30 km away; Mount Kilimanjaro National Park is 70 km away.
Emphasis is on providing comfortable accommodation, each room individually styled and uniquely furnished with its own character.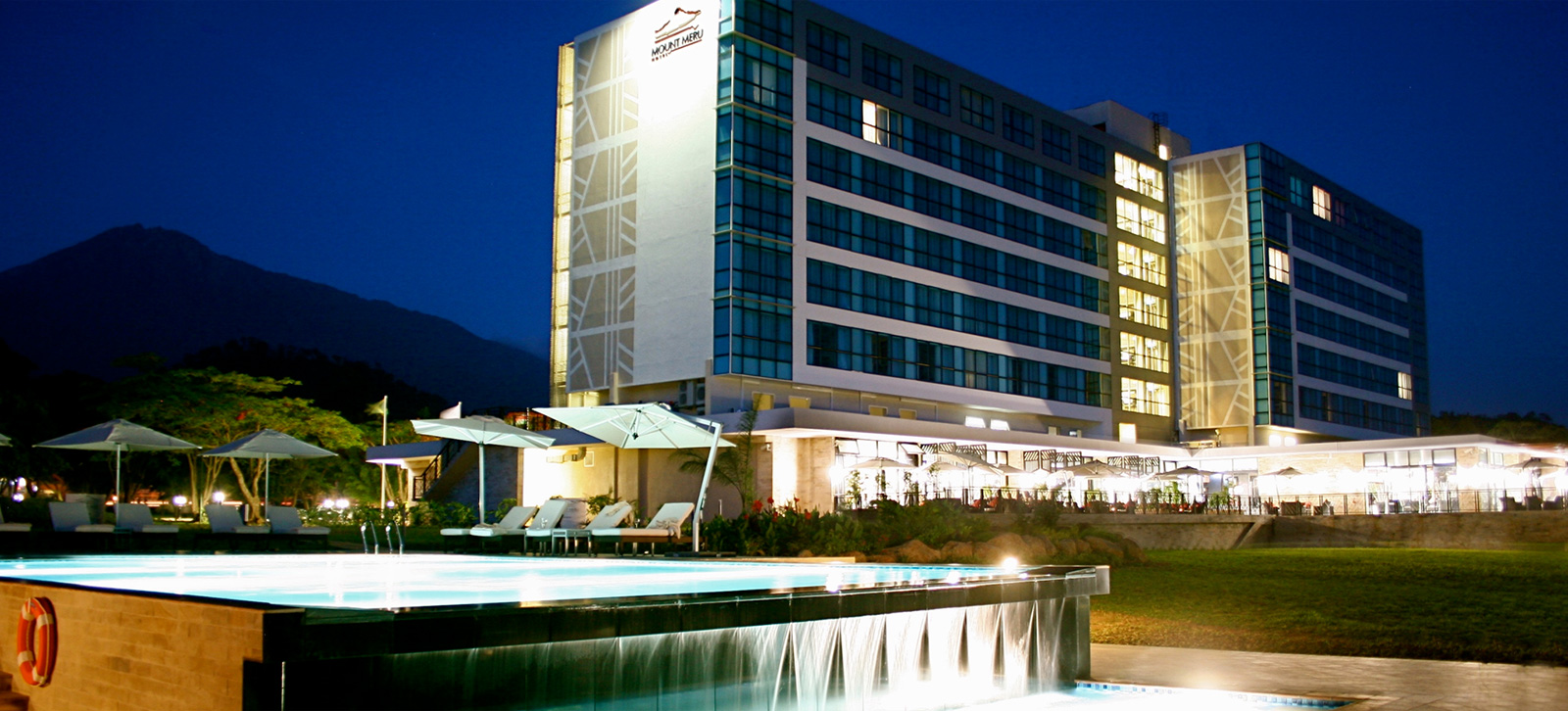 The best hotel in Arusha with 4-star Mount Meru Hotel features an outdoor pool, fitness center and 24-hour front desk.
The elegant and spacious rooms are fitted with air conditioning, TV, minibar, safe and tea-and-coffee-making facilities. The Executive Suites have garden and pool views while the Presidential Suites offer extra space with a seating and dining area
A 4-star hotel in Arusha, a Mount Meru Hotel blends stylishly elegant African architecture with supremely luxurious accommodation; sparkling water gardens with beautifully landscaped gardens, and a wide choice of international restaurants.
A luxurious 4-star hotel local in Arusha the tourist city, the Kibo Palace offers up 77 rooms and suites including 2 Presidential Suites, 2 Family Suites, 3 Deluxe Suites, 3 Executive Suites, 57 Executive Doubles, and 10 Executive Twins.
The spacious and elegantly furnished rooms are equipped with air conditioning, a minibar, a desk, and satellite TV. The bathrooms have a shower and a bath. Free WiFi is available.
Overlooking the pool and the garden, the restaurant offers à la carte and buffet dining with a selection of African and international cuisine. Cocktails, drinks, and snacks can be enjoyed at the lounge bar or at the pool. A 15-minute walk from Arusha city center and Kilimanjaro International Airport is a 45-minute drive away and the airport.
Grand Melia Arusha

Gran Melia Arusha offers 5-star accommodation with a sauna and terrace. Located in Arusha, 2.6 km from Old German Boma, Grand Melia Arusha provides accommodation with a restaurant, free private parking, an outdoor swimming pool, and a fitness center. Among the facilities at this property are a 24-hour front desk and room service, along with free WiFi throughout the property. Guests can have a drink at the bar. A continental breakfast is available daily at the hotel.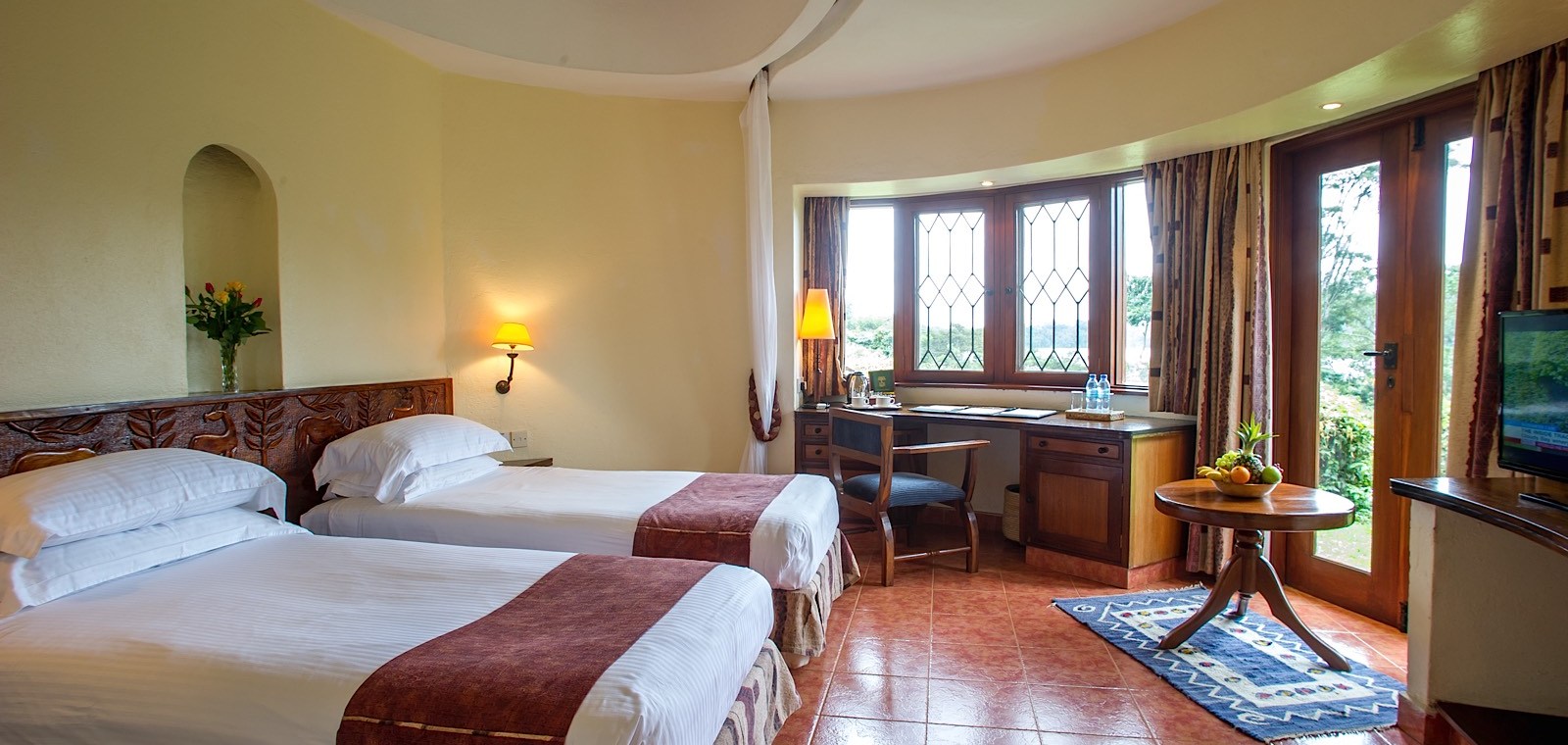 A 4star Arusha Serena Hotel, Resort & Spa is unlike any other hotel in Tanzania with authentic, bespoke experiences that stir the traveler's soul while showcasing the breathtaking tranquility of our surroundings. Set among the woodland slopes of Mount Meru at the edge of Lake Duluti, there's no better for soaking in the beauty and magnificence of the Tanzanian "Northern Safari Circuit."
Accommodation in (Lake Manyara + Tarangire)
Luxury lodge with 20 spacious rooms in individual cottages relaxation and African elegance in a spectacular refuge in the middle of the mountains. All of them have views of the Ngorongoro Conservation Area. There are rooms with double or twin beds and three bedded rooms.
The rooms have an en-suite bathroom with a shower and a private furnished terrace. There are a laundry and room service, bathrobe and slippers for the pool, and an electronic safe in each room.
The lodge offers the setting of the majestic mountains; this exclusive hotel is a haven of peace and comfort with all the attention and the luxury of a traditional country villa. The relaxation the spa offers and its swimming pool are the perfect contrast to the intense excursions and safaris available from the lodge to the Ngorongoro area.
Lake Manyara Serena lodge
Lake Manyara Serena Safari Lodge provides a genuinely impressive safari escape in beautiful traditional 'rondavel' cottages positioned over the fringe of the cliff.
The lodge offers a restaurant, an outdoor pool, and poolside bars are available at this smoke-free hotel. Wi-Fi in public areas is free. Other amenities include a conference center, coffee/tea in a common area, and spa services. All 67 rooms feature thoughtful touches like bathrobes and slippers, along with conveniences such as dining areas and coffee makers. Wi-Fi, room service, and free bottled water are among the other amenities available to guests
Lake Manyara Kilimamoja luxury lodge
A luxury lodge 5 stars with the spectacular main house has all the luxuries including the main lounge, grand hallway, dining room, spa, boutique, conference room, media (TV) room, outside fireplace, rim-flow pool, billiards room, internet cafe, and children's activity room. All 50 suites and 2 bedroom luxury villas have panoramic views of the surrounding area. All rooms are tastefully decorated with all the amenities one would expect in a 5-star lodge, inclusive of inside and outside shower, bath, air conditioning, fireplaces, Wi-Fi, mini bar, safe and private balcony.
Sangaiwe Tented Lodge – Tarangire Tanzania
A beautifully constructed tented rooms set on wooden platforms with a solidly attached bath, toilet, and dressing area. Presently there are thirteen (13) tents.  Each elevated tent has twin or double beds, a writing desk, ample places for luggage, and indoor and outdoor seating. Decks all have stunning views to Lake Burunge and the Rift Valley.
There is are two-bedroom family cottages with one twin room and a double room, both en-suite and joined by a common sitting area. Each room has its own veranda.
With permanent camp has 38 spacious tented rooms, individually built on a raised deck with an en-suite bathroom. There are 6 family rooms, perfect for guests with children. The bathrooms have a built-in shower and each tent has its own terrace from where guests can enjoy views of Lake Manyara and the Rift Valley. Two of the tents comprise double adjoining units suitable for a family safari in Tanzania/Africa. Maramboi tents are clean, roomy, and comfortable with mosquito nets for the beds which boast stylish wrought iron headboards.
Every evening a fire is lit where guests can relax and enjoy the sunset whilst enjoying a drink (all the drinks, including local beers and wines, are included), and if the weather is good guests can have dinner outside under the stars.
Lake Manyara Wildlife Lodge is strategically located on the very edge of the vertiginous western escarpment of the Rift Valley, affording magnificent views down across the whole Lake.
Lake Manyara Wildlife Lodge invites you to an unforgettable safari experience from its privileged location, unrivaled by any other, both for game viewing and scenery. Elegantly designed as a two-level ensemble of buildings, its authentic traditional African style decorations create a unique atmosphere that perfectly combines extreme tranquility with the best of adventure-packed safari experiences. From its privileged position, the entire Lodges' 100 guestrooms have stunning views across the tranquil and beautiful waters of the Lake.
 Accommodation in Serengeti National park
Kubu Kubu Tented Camp is located in central Serengeti. The Seronera River provides a constant water source for resident and visiting wildlife including a huge variety of colorful birds. The lush riverine forest along its banks offers important cover for the elusive leopard. "Incredible accommodation with the Serengeti at your feet. It has a swimming pool, Wi-Fi in common areas. The rooms have spectacular views from where you can enjoy a breathtaking sunrise"
The camp ha main area built on a raised deck, which is perfect so as not to lose anything that's happening roundabout. This is where the dining room and lounge are situated. The lounge has comfortable sofas and armchairs and a selection of board games are available.
Impressed by the natural beauty of Northern Serengeti. Mara Under Canvas is the closest camp to the river Mara where each year enormous columns of wildebeest cross the river, negotiating the jaws of the hungry crocodiles, in order to get to the pastures on the other side in what could be considered the climax of the Great Migration.
This luxury temporary camp is open from June to November. It allows visitors to be in the proximity of the Great Migration and to be able to explore remote areas and the beautiful settings of Serengeti with a large amount of resident fauna. The camp has only ten double tents and a family tent which assures the intimacy and exclusivity of this intense experience.
Discover a magnificent of Serengeti Serena Safari Lodge is an award-winning gem of a hotel in one of the most beautiful settings in Tanzania. Seamlessly blended high into an acacia-lined ridge, our African-style lodge, and infinity pool offer panoramic views across the Serengeti's vast, endless grasslands, where lions and cheetahs stalk their prey and massive migrating wildebeest herds darken the landscape in a relentless search for fresh grazing grounds.
Grand Melia Serengeti lodge
A 5-star hotel local in the heart of the wildness of Serengeti National park in Tanzania. The perfect symbiosis of nature and luxury in a true African adventure. The incredible wildlife experience in the heart of one of the most beautiful national parks in Africa. The Meliá Serengeti Lodge blends into its natural surroundings without relinquishing the services and facilities of a luxury hotel.
Seronera Wildlife Lodge is artfully constructed around a rocky outcrop from glass and wood elements, perfectly blending into its surroundings; next to the lodge, several waterholes attract, day and night, the most amazing animals, providing a unique opportunity for a close encounter with nature. Seronera Lodge is only 5 minutes from the departing point of the hot air balloon safaris, which offer a thrilling bird's-eye wildlife perspective of the vast plains of the Serengeti.
The camp offers comfortable accommodation together with the unique opportunity to enjoy a real safari experience on a camp. In its comfortable tents, one will feel completely immersed in the surroundings and one can enjoy the rich animal life and vegetation of the area.
11 spacious tents with a private en-suite bathroom which includes a camp shower, washbasin, and toilet. All of the tents have large beds (double or two singles). The electricity is provided by solar panels.
The camp has a cozy dining room tent, with interior and exterior areas. It's possible to organize picnics. In the afternoon you can enjoy an aperitif before dinner around the campfire light.
Lahia Tented Lodge is strategically located at the top of a hill overlooking Central Serengeti with views towards Western Serengeti, within reach of mythical locations such as the famous kopjes, the museum at the Olduvai Gorge, Seronera valley, and the Grumeti River. The main house offers a unique 360 º panoramic view of the landscape. The building contains lounges, a dining room, and a swimming pool. Guests can observe the Great Migration spectacle from the comfort of their tents
Lobo Wildlife Lodge, located in the North of Serengeti National Park, the most spectacular scenario of wildlife in its pure essence.
It is the largest lodge on the migration route where it's elevated position means that the migration can be viewed from the comfort of a sun lounger. You can watch and witness the migration even from the pool.
Artistically made of stone and local timber around clusters of large boulders, harmoniously merging with its surroundings, the Lodge affords from its raised location stunning views of the most amazing natural spectacle to be seen on Earth.
Accommodation in Ngorongoro crater
The lodge set within the lush Ngorongoro Conservation Area, this remote, down-to-earth lodge is perched on the highest edge of the Ngorongoro Crater, a 610m-deep volcanic caldera.
Unfussy TV-free rooms feature tea and coffee making facilities, and en suite, shower-only bathrooms. All have enclosed terraces with floor-to-ceiling windows and crater views.
A breakfast buffet is complimentary. There's a relaxed restaurant with panoramic views, a bar, and an outdoor pool,
Ngorongoro Serena Safari Lodge
A luxury lodge the Ngorongoro Serena Safari Lodge is set on a crater rim overlooking the Ngorongoro crater described as the eighth wonder of the world. This Serena Lodge is built from local river stones and camouflaged with indigenous vines. Designed to blend completely into the landscape. The location, the service, and the luxury accommodation make Ngorongoro Serena Safari Lodge the ultimate destination for your unique safari experience in Tanzania.
Ngorongoro Serena Lodge offers 75 en-suite rooms, made up of the Kimba Suite, equipped with a spacious master bedroom with a king-size double-bed, luxury bathroom with bathtub and shower, a sitting room, minibar, satellite TV and video, 29 double rooms with king-size beds and 30 twin rooms all which have telephone and Wi-Fi connectivity, complimentary mineral water and toiletries, hairdryers, 240V/3-pin (square) sockets, and shaver socket.
Ideally located on the edge of the Ngorongoro crater rim, Rhino Lodge offers a perfect base from which to explore the Ngorongoro crater and its surroundings. With 24 comfortable ensuite rooms, a cozy living space, friendly local staff, and generous African-inspired meals, Rhino Lodge welcomes guests to Africa's most remarkable game park.
Ngorongoro wildlife lodge
Ngorongoro Wildlife Lodge is strategically perched on the rim of this 'Garden of Eden', affording unbelievable views plunging down over the crater floor, 7,500 feet above sea level.
From its privileged position, all the Lodge's 80 rooms afford breathtaking uninterrupted views, and the open-air terrace of the Rhino Lounge Bar offers superb panoramic views of the whole Crater.
Ngorongoro Farmhouse lodge
Ngorongoro Farm House, a small and exclusive hotel built on a 500-acre coffee plantation, all of which has been designed to take you to the comfort and style of past times. The hotel has 52 chalet type rooms (49 are standard type rooms and 3 are suites) built in the style of the old colonial farms and decorated rustically with local materials and tasteful details. All of them are spacious and connected by pathways divided into three sectors.
The main building has a thatched roof.  It includes a lounge, restaurant, and large terrace with spectacular views to the Oldeani volcán.  On occasions, buffet-type meals are served around the swimming pool.  Guests have a variety of food to choose from prepared with vegetables produced in the farm's gardens.
Organic coffee, a selection of teas, and homemade cake are available at all hours in the main building.
Neptune Ngorongoro Luxury Lodge
A 5 star Neptune Ngorongoro Luxury Lodge is situated in the Karatu district surrounded by the highlands of Tanzania and the world heritage site namely the Ngorongoro Crater. It features a swimming pool with a sundeck and a spa.
Each luxury suite features a spacious viewing terrace and an open fireplace. It has a living room with a sofa and a dining area.
The Acacia Restaurant features a formal dining room with an outdoor terrace. It serves buffet meals and there is an à la option.
Accommodation in Lake Eyasi
Located on a gentle slope, Lake Eyasi Safari Lodge offers stunning views over the seasonal soda lake and up to the Ngorongoro Conservation Area. Sixteen tastefully furnished spacious rooms are located within the large property, each with a private verandah overlooking the lake. The décor blends elements from the surrounding landscape with modern comfort.
The main Lake Eyasi Safari Lodge building features a reception, lounge, bar, inside and outside dining, and a gift shop as well as an open-air upper deck area. Our swimming pool offers a welcome and refreshing respite after a long and dusty safari.
Kisima Ngeda Tented Camp
Kisima Ngeda is a tiny tented camp situated on Lake Eyasi's shore. A huge soda lake which is in the rift valley floor beneath the Ngorongoro Highlands. The scenery across this soda lake up to the 3000 feet escarpment at the end is really amazing The camp simply has 7 tents.  Each of them constructed underneath a thatched structure skillfully made nearly completely of palm (including thatch with poles) and with cautious care about the utilization of environmentally friendly materials.
The location of the camp is very stunning with breathtaking views extending north of the renowned Ngorongoro Crater.  Plus the verdant Highlands with views of two extinct volcanoes the Lemagrut plus Ol Deani mountains.
 Tanzania Safari–Tindiga Tented Camp
Tindiga Tented lodge is a beautiful lodge overlooking the plains of Lake Eysai and Ngorongoro Highland. The lodge blends in beautifully with the natural environment, protecting and preserving the natural resources.
Each room has tea/coffee making facilities, work desk and chair, verandas and an en suite bathroom. Complimentary breakfast is offered to the guests.
Tindiga Tented Camp also features a bar/lounge, fireplace, and restaurant built by Datoga women, reflecting their culture and lifestyle.
The lodge offers hunting with the Bushmen, visits of the Datoga tribe (a nomadic tribe in this area), bird watching tours, walking Safaris, and other cultural tours. The premises are guarded by trained security personnel.
Tindiga Tented lodge is 1.5 km from the Lake Eyasi (a seasonal saltwater lake) and is home to the indigenous bushman, the Hadzabe, and the nomadic Datoga tribe.
 10 traditional-style canvas tents, with en-suite bathroom and private veranda
Bathroom with shower, flush toilet, wash hand basin, soap, towels, and bottled water
Mosquito nets, mosquito coils, candles & matches
Electrical lighting in tent and bathroom
Fairytale set-up in the evenings: traditional hurricane lamps in the grounds, along the paths a tents
Rustic dining room/restaurant built by local Datoga women
Full & half board rates; lunch boxes available
Complimentary coffee and tea in the afternoon
Fireplace with lounge area
Activities: Go hunting with the Lake Eyasi Bushmen, visit their base, and get to
Accommodation in Lake Natron
Maasai Giraffe Eco Lodge
A small campsite and lodge located near Lake Natron, in Loliondo district, Arusha. The property is suitable for guests who love Safari travel as it is located advantageously between Lake Natron, Ngorongoro, and Serengeti National Parks.
The property offers 4 rooms made up of Single, Double, Twin, and Triple Rooms that can accommodate up to 8 people. All rooms are also equipped with hot shower, telephone, and mosquito nets.
Guests can enjoy meals and drinks from the onsite bar and restaurant. The lodge also offers a fully equipped kitchen and dining area for the guests.
Maasai Giraffe Eco Lodge is close proximity to Lake Natron, Oldonyo Lengai, and a few hours' drive from Arusha City.
Lake Natron Tented Camp, Moivaro
This Camp is nestled in shady woodland, which forms a cool oasis in the dry arid heat of Lake Natron area. Lake Natron Tented Camp offers:
9 spacious semi-luxury tents with a private verandah and fitted with en-suite bathrooms with showers and flush toilets.
11 fly tents not self-contained with private toilet and shower block.
Restaurant and bar
Natural swimming pool
Campsite: 2 kitchens, mess tent, toilets, and showers.
Staff and managers very nice, great relaxing atmosphere, delicious cooking, a great place to stay.
Lake Natron Camp
Lake Natron Camp holds ten spacious guest tents, cleverly disguised under camouflaged shade netting. Each tent is comprised of a porch area, main bedroom, and en-suite bathroom with a shower and eco-toilet. The main bedroom is furnished with a comfy king size bed*, luxurious Egyptian linen, and furniture made from greenwood.
A private path leads from each tent to our natural swimming pool in the spring-fed stream.
*Each tent can also accommodate 2 extra single beds upon request.
Accommodations in Southern Serengeti Ndutu Area
Ndutu Kati Kati tented camp
Ideal for exploring the extensive south of Serengeti and witness the migration. The camp offers comfortable accommodation together with the unique opportunity to enjoy a real safari experience on a camp. In its comfortable tents, one will feel completely immersed in the surroundings and one can enjoy the rich animal life and vegetation of the area. An original form of accommodation that resembles the old camps of the first explorers in Africa, with all the commodities of today.
10 spacious tents with a private en-suite bathroom which includes a camp shower, washbasin, and toilet. All of the tents have large beds (double or two singles). The electricity is provided by solar panels.
We have thirty-four en-suite cottages at Ndutu which range from double, twins, triples, and a quad room, and all are built from local materials. Our stone and thatch cottages are naturally cool due to the thick walls and they provide simple and comfortable accommodation. Each room has an en- suite bathroom with hot showers, a sink, and a flushing toilet.
All of the cottages have a private veranda overlooking the natural unfenced landscape of indigenous trees and shrubs outside your cottage door ensuring you are never far from the host of birds and mammals who call the Ndutu area home. The cottages extend from a warm and welcoming central dining, seating, and bar or 'mess' area which has long been a gathering place for friends old and new.
Masek Under Canvas Luxury Tented Camp
Witness the early morning mist rise on the banks of Lake Masek. From the private terrace of your tent, you can observe the wildlife of the area.  Many animals visit the lake in search of water and therefore this camp is in a privileged observation point.
Besides, this area is the principal setting of the Great Migration which takes place from December to April and the Big Five visit the area.  The camp is set-up every year in a different part of the area, to make sure that you will always have the best place to see this impressive spectacle from your own tent and the camp is ecological without losing in comfort and attention.
Accommodation in Southern circuit Tanzania
Selous Wilderness Camp
Your safari in Tanzania will bring you undoubtedly to the Selous Game Reserve and us at Selous Wilderness Camp. Become part of it and enjoy the freedom terrain, the electrifying roar of a lion. Situated on the banks of the mighty Rufiji River.  The Camp provides guests with tranquil lounging and dining areas. With nine authentic safari tents and two family bandas offer spacious and unexpected refined accommodation. Designed to mirror the natural surroundings of the Rufiji River.
Selous Kinga Lodge
Selous Kinga Lodge is another wonderful reason to visit magical Southern Tanzania. This paradise-like retreat is strategically and exclusively positioned on the banks of the awesome.
Selous Kinga Lodge offers a range of resort amenities for comfortable accommodation. World-class dining, a full-service restaurant, and unprecedented service. We invite you to be our guest and discover natural elegance and exciting…
Business Center
Bar
Barbeque Facilities
Book Stand
Camping Area
Conference Facilities
Gift Shop
Lounge Area
Restaurant
Secure Parking
Swimming Pool
Terrace
            Tanzania Safari- Lodge Services
Our Lodge offers an array of services and facilities to make guests. Stay in comfortable and enjoyable including Bar, Restaurant, Free Wi-Fi, etc.
24-hour Security
Babysitting (surcharge)
Breakfast
Credit Card
Dry Cleaning
Daily Housekeeping
Free WiFi
Foreign Exchange
Laundry Service
Meal on Request
Telephone
Tour / Ticket Assistance
Mikumi Safari Lodge
Mikumi Safari Lodge is a Tanzanian family-owned lodge. Operated business located approximately 6.5km off Tanzania Highway (A7) and about 294km from Dar es Salaam. Built at an elevation of 727 meters above sea level.
Mikumi Safari lodge offers 8 cottages integrated into the surrounding environment with total privacy. Each cottage is fitted with warm and cold showers in a spacious bathroom.
Our restaurant offers both Tanzanian and international meals made fresh from local products.
The bar offers a wide range of wines, spirits, and soft drinks. WiFi is available at the lodge.
Ruaha Hilltop Lodge
Ruaha Hilltop Lodge is built on a hill with a wonderful panoramic view. There are many types of different birds, wildflowers, butterflies, and trees that can be seen nearby.
The luxury self-contained cottages are very comfortable and private, each with its own balcony with a beautiful view. Our water is heated by solar power. We have 24 hours of electricity, solar-powered as well. WiFi is available at the lodge.
The reception, dining room, and bar are all under one roof. Enjoy the spectacular African sunrise and sunset.
  Contact us for your custom Tanzania safari accommodation.